Christian Danner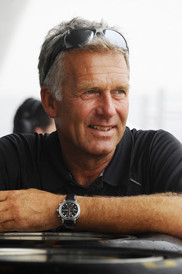 He is one of the most well-known German Formula 1 drivers. And a striking, likeable personality. Since Christian Danner gave up his place at the steering wheel in the great racing circus, he has been talking about the sport: his fan group regards the experienced Bavarian as the most eloquent co-commentator there has ever been in Formula 1 TV broadcasts. It's no surprise either, because Danner has all the qualities a true darling of the public requires. He is good-looking, charming, spontaneous, witty and knows how to present his tremendous expert knowledge in a humorous and highly entertaining manner.
Personal data
Christian Danner (born on 4 April 1958) embarked on his career as racing driver in 1977.
Areas of activity

Expert commentator, dubbing actor, further areas of activity on request
Language

german, english
Profile
Please download the complete profile of Christian Danner.
UST_Steckbrief_ChristianDanner.pdf
Adobe Acrobat Dokument
409.7 KB